Artists Exhibiting At Our London Art Fair
Here you can find information of each artist who will be showing at the next Roy's London Art Fair including exhibitions, achievements and sample works.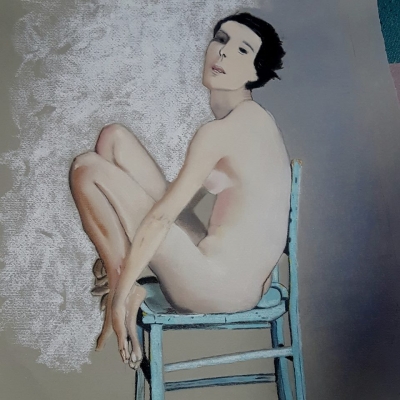 Bio:
MMO

Mexico City, 1969

Multi-faceted self-taught artist. He has devoted part of his life to design art object and unique everyday pieces.

2018 was a year of revelation. After the death of his dear friend and art teacher José Ignacio Maldonado, MMO is coming back from the digital world to the warmth and magic of the canvas. Pastel and acrylic have witnessed the whirlwind created by the artist's teachers and sources of inspiration (Margarett Dawit, José Ignacio Maldonado, Nidia Larrea, Arturo Elías Islas), whirlwind that exploded in form of a very personal style. The eyes in his artworks steal the soul. The artist is able to create intimate dialogs with the depths of the human sensibility and transforms them in endearing moments.

The path of transformation towards who the artist is today has been long. He has left trace through art object, sculpture, digital watercolour, and back to pastel to give life to the most intimate and deep human emotions in his recent works.

He explored digital art in his series "Los pies de mi tierra" ["My homeland's feet"] (2014), where he depicts the undeniable, but sometimes scorned, origin of the Mexican folklore's colourfulness. They are the colour, the model and the source, says the artist. In this series, he honours our origins with an avant-garde style that mixes pop art, impressionism and realism — given by the photography — and offers a brush-stroke that touches and arouses.

MMO had his first collective exhibition at Orféo Catalá, in Mexico City, "El despuntar de mis recuerdos" ["The dawn of my memories"] that commemorated the Fall of Cataluña in 2014.

Between 2015 and 2017, through digital watercolour, he started the search of a different way to handle colour and form, using pixels to bring to life and prevent the oblivion of people from the past — like Native Americans and Yaquis —, the history, the equestrian world, and the materialization of dreams.

"A character, a feeling, a moment could detonate memories, sensations. Thus, by capturing those instants, I share with them a part of myself and steal his intimacy so their path does not become a mere souvenir or a lost moment."

He was invited to take part of the World Art Day (2015-2016-2017) with his series "Los pies de mi tierra" ["My homeland's feet"], "Indios americanos" ["Native Americans"] and different sculptures. His works have been exhibit in various facilities of the Universidad de Guanajuato; also in the Auditorio Tres Guerras in Celaya, Guanajuato, and in the Centro Cultural del México Contemporáneo in Mexico City, and others.

---