Artists Exhibiting At Our Art Fair
Here you can find information of each artist who will be showing at the next Roy's Art Fair including exhibitions, achievements and sample works.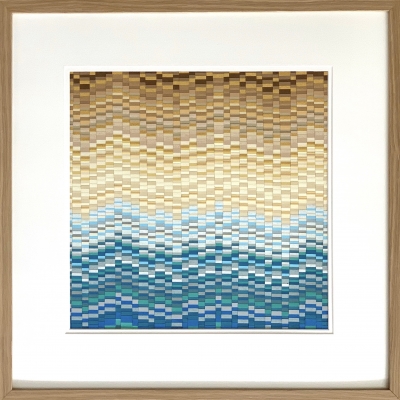 Bio:
My work is fuelled by my interest in landscapes, urban environments and colour theory. My earlier art has recently been superseded by an approach that's more refined, abstracted and simplified with references to Op-Art.

In the past year, I have been working exclusively in mixed media, using paper, foil, card and vinyl mounted on aluminium panels and framed. These works are a challenge to make, as once set down and adhered to the panels, there's no possibility of amending them. My technique also gives the composition a unique, textured quality.

Recent series include 'London Sky', 'Travel Scapes' and 'Fragmented Landscapes' which are all based on abstracted landscapes and "Rainbow Series" that is based on the recent NHS rainbow, the pride flag and the colours of the rainbow. These work use linear elements, repetition, colour, texture and optical illusion to create images of real and imagined places.

Working from my studio in Waterloo, London, my work can be found in collections in the UK, France, Spain, South Africa, Australia, Argentina and The USA.
---