Artists Exhibiting At Our London Art Fair
Here you can find information of each artist who will be showing at the next Roy's Art Fair including exhibitions, achievements and sample works.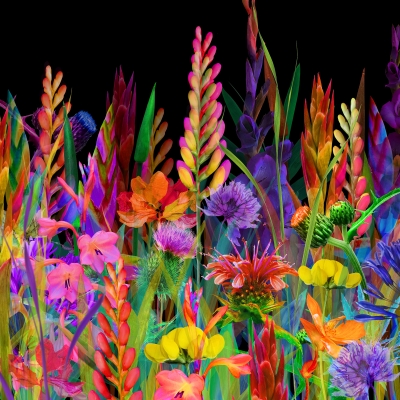 Bio:
NATALIE HEMKES IS A BRITISH PAINTER, PHOTOGRAPHER AND DIGITAL ARTIST WHOSE LOVE OF COLOUR AND THE NATURAL WORLD INFORMS HER BOLD AND VIBRANT WORK.
NATALIE IS A SELF TAUGHT ARTIST WHO, AFTER A VERY SUCCESSFUL 2 DECADE CAREER IN JEWELLERY DESIGN, IS ONLY NOW RETURNING TO HER TRUE PASSION OF A FULL TIME ART PRACTICE.
HER WORK IS EMOTIVE , IMMERSIVE AND OFTEN MEDITATIVE, DRAWING THE ONLOOKER INTO A RICH KALEIDOSCOPIC TAPESTRY OF COLOUR AND FORM.
THROUGH THE ENDURING THEME OF NATURE SHE EXPLORES AND INTERPRETS HER UNDERSTANDING OF THE WORLD AROUND HER WITH AN IRRESISTIBLY JOYFUL EXPLOSION OF TEXTURES AND COLOURS; USING LAYER UPON LAYER OF FLOWERS, PAINTERLY BRUSH STROKES AND INTENSE LIGHT PLAY SHE CREATES AN ETHEREAL 'OTHER' WORLD FULL OF WONDER AND DIZZYING DELIGHT.
RECENTLY THE ARTIST HAS BECOME FASCINATED WITH THE SCIENCE OF NATURE AND PARTICULARLY IT'S EVOLUTION; IN HER LATEST BODY OF WORK SHE EXPLORES THE QUESTION OF HOW THE NATURAL WORLD MAY EVOLVE AFTER THE END OF THE 'ANTHROPOCENE ERA': MANKIND'S BRIEF EXISTENCE, WHILST INCREDIBLY SHORT IN COMPARISON TO THE EARTH'S LONG HISTORY, IS ONE THAT HAS SEEN THE NATURAL WORLD IRREVOCABLY DAMAGED AND ALTERED BEYOND ALL RECOGNITION. SHE EXPLORES WHAT MAY 'SURVIVE' US IN THE EVOLUTIONARY RACE OF LIFE.
---