Artists Exhibiting At Our London Art Fair
Here you can find information of each artist who will be showing at the next Roy's London Art Fair including exhibitions, achievements and sample works.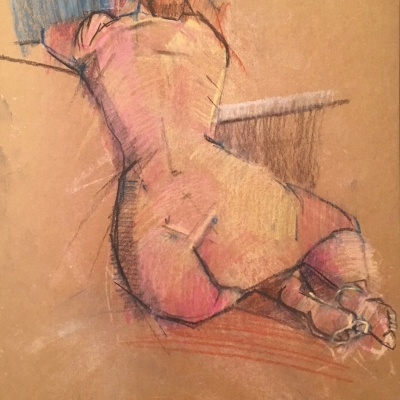 Bio:
My work is concerned with portraying the human figure and how it relates to the space around it. I have always had an analytical approach to mark making having also been trained in technical drawing, but it was during my time at Blackpool & Fylde college that I was exposed to the Euston Road approach to measured drawing. I was then able to explore this further during my degree at Coventry University drawing on the works of William Coldstream and especially Euan Uglow as inspiration.

After graduating I began a career in visual merchandising which enabled me to be creative on a daily basis. I also see shop windows displays in the same way as a drawing (and also theatre set design, another passion of mine), in terms of how all the elements and the mannequin placement have to work together in order to create a successful window.

Although I have always drawn, in 2014 I decided to start dedicating more time to it and began documenting the faces of the locals in various Tooting cafes and bars. I draw using biro in a small Moleskine sketchbook as I like the unforgiving nature of this - the people I draw are unaware I'm drawing them so capturing the constant movement in biro is definitely a challenge. I tend to crop in close on the face to make the viewer think about what the subject is experiencing and also creates a certain sense of isolation. I began using Instagram as platform for these drawings under the name biroboyblog, and also to document the work I do at the various life drawing sessions I attend and help run on a weekly basis. For me, a drawing is considered a finished piece whether it is a 2min or 25min drawing. The art of draughtsmanship is central to my approach.
---