Artists Exhibiting At Our Art Fair
Here you can find information of each artist who will be showing at the next Roy's Art Fair including exhibitions, achievements and sample works.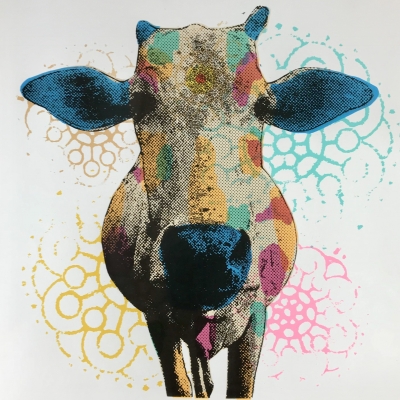 Bio:
My name is Charlotte Gerrard and I am a professional artist based in London, UK. I concentrate producing beautiful and highly original animal paintings and screenprints. The primary focus for my paintings is cows, particularly the Indian street cows.

My paintings are embellished with layers of gold print giving them a sense of opulence and unique appeal. These are all available as l limited edition giclee prints.

My Screenprints focus on feathered animals, primarily ducks. They are all one-offs or very small editions..

My prints are of very high quality and my images have often been described as having a real 'feel good ' factor.

My personal work has always been based around the natural world, embodying the complexities and detail found in both the plant and animal kingdom.

I explore the diversity and complexity of my subjects through vibrant and impressive, animated images.

I work energetically employing sweeping strokes of thick paint to produce exciting images, which have been described as 'bursting with vitality'.

Although I turn my hand to many animals, it is the docility and warm nature of cows that my palette knife has favoured over time, as I focus on capturing the individuality, charm and serenity of these gentle and earthy creatures. My paintings endeavour to portray the worthiness of these animals and depict their details with depth, sensitivity and humour. By producing life-like, animated images I am attempting to give these passive creatures a voice and a place in a society where they are all too often disregarded..

"Often bold and whimsical, yet still retaining an air of sensitivity and charm, the art warms the heart and celebrates the diverse nature of our species. I endeavour to convey a feeling more than capture a scene. Instead of being just an illustration, a piece of art should be able to strike a chord among its audience."

I have been selling paintings and prints at trade fairs and galleries regularly since 2002. Since 2007 I have taken a stand at Spitalfields Art Market situated in London's thriving commercial epicentre. This high profile location has become a regular haunt for art buyers, both local and international, looking to snap up a piece from a range of established and emerging artists.

I have been a practising visual artist since 1994, professionally since 1999. I am currently a member of the Barbican Arts Group Trust and have a studio in Blackhorse Lane, London E17.

Prior to this I was the artist-in-residence for a London Community Association for 10 years where I have worked on several public art projects liaising with both councils and the local community. In recent years I have moved more into the educational sphere, working in schools and galleries as an artist educator, specialising in teaching environmental awareness and the fragility of our planet through creative art projects whilst focusing on high quality artistic processes and outcomes.
---