Artists Exhibiting At Our Art Fair
Here you can find information of each artist who will be showing at the next Roy's Art Fair including exhibitions, achievements and sample works.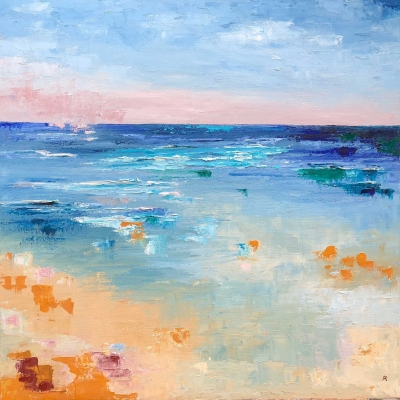 Bio:
Ann Palmer is a landscape and seascape painter based in Rochester, Kent. She works 'en plein air' in oils on the Kent and Cornish coasts and in Touraine in the Loire Valley and in her studio at Nucleus Arts in Chatham as well as at home. Her subject matter includes the valleys and coasts of Kent especially in Whitstable, the Poldark Coast of north Cornwall and the vineyards and Chateaux of France.

Ann works quickly, resulting in a freshness which is impressionistic yet creates a clarity of subject and defines the mood of the day. Ann uses artist quality oils on acrylic primed MDF, or hand stretched and prepared canvas, using both brushwork and palette knife.

'I have been drawing and painting since September 2007 after retiring from the National Health Service where I practised for many years as a General Practitioner and Public Health Consultant.'

I enjoyed art as a child but had not done any painting until I joined the Rochester Adult Education beginners Class in 2007/8. In July 2008 I joined a 5 day course in Watercolour led by Roger Gill at Central St. Martins. I have learned through class work, reading and visiting exhibitions. I have taken part in watercolour workshops organised by Francis Iles in Rochester, Norfolk Arts Centre and monthly Master Classes led by Bill Newton. I attended Life Drawing Classes in Maidstone and Rochester, and Master Classes in Hastings with Crawfurd Adamson. I have developed my oil painting skills under Crawfurd adding palette knife with Alain Bordier popular french artist.'

SONY DSC
Ann is a plein air artist painting in oils on location in Kent, UK and France
I developed my ability to draw and paint towncapes and perspective with James Willis at the Soane Museum and then I took up oil painting under the guidance of Crawfurd Adamson who teaches life drawing and painting and with Alain Bordier (in France) who taught me to use a palette knife.

I enjoy painting en plein air – local scenes especially landscapes and stormy skies and sea. I draw and paint as often as possible; primarily I paint outside in all weathers taking my inspiration directly from nature, setting up my box easel in the vineyards, alongside the River Cher, or the beach at Whitstable or other Kent locations. I use my visits to Italy especially Venice, and to other parts of France including the Alps Maritime around Aix en Provence, Avignon and Arles. I gather useful reference material, sketching locally in Medway, Cornwall, Bath and the Loire Valley where I spend time in my second home.

With my studio I am now painting larger and more thoughtfully, using oil sketches, pen and ink sketches and photogrpahs to plan my portfolio of work and develop my series which now include Whitstable paintings, Kent Coast, and the Poldark Coast of Cornwall.

I am exhibition secretary for the Rochester and West Kent Art Society with whom I paint and exhibit. I exhibit regularly at the Seaside Brocante and at The Horsebridge Arts Centre in Whitstable; Capital Arts Gallery in Eltham, Nucleus Arts Centre in Chatham and in Chelsea Town Hall with the Parallax Art Fair as well as taking part in the Pintar Rapido competition painting a day in London.
---