Artists Exhibiting At Our Art Fair
Here you can find information of each artist who will be showing at the next Roy's Art Fair including exhibitions, achievements and sample works.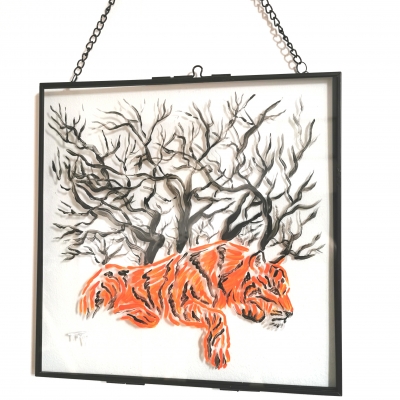 Bio:
Statement

''I paint figurative images using a simple and colourful brushwork. I aim to find a balance between form and colour with fluid lines that capture the shape of the subject. The intended result is an image made beautiful and striking through the purity and simplicity of its shape and execution. The main subjects of my painting are wildlife, female figures and botanicals as I find organic, natural curves a joy to paint and look at.
I'm inspired by nature but also often use Prehistoric cave paintings as reference as this early form of creative expression fascinates me; I love the simple lines and earthy colours used in a lot of these paintings.
My work has also been compared to vintage children's book illustrations which is no accident as I have had a passion for literature from a young age and my earlier works were heavily inspired by folk and fairy tales.
Most of my work is on canvas but I have recently been painting on glass. The subjects of my paintings usually stand alone with a blank background so the focus is on the subject. I believe reproducing my subjects on glass elevates the quality and focus of my work, giving the effect that the subject is suspended in mid air. Like a bee trapped in amber, the painting is crystallised and preserved in its own world.''


Bio
I grew up in France and obtained my Masters in Art at the Université Paris VIII in Paris and moved to London after graduating in 2009. I worked in publishing for several years after moving to London as I have a passion for books as well as art. I continued to develop my art in my spare time and eventually started working in an art gallery as a consultant in 2017. Working in an art gallery was a great experience and I started exhibiting at art fairs during that period; in 2019 I finally decided to pursue my art full time and moved my workspace to Wimbledon Art Studios. I have since showcased my work in London and the UK and was shortlisted for the Creates Gallery Emerging Artist Award in 2018 and longlisted for the Secret Art Prize in 2019.
---