Artists Exhibiting At Our Art Fair
Here you can find information of each artist who will be showing at the next Roy's Art Fair including exhibitions, achievements and sample works.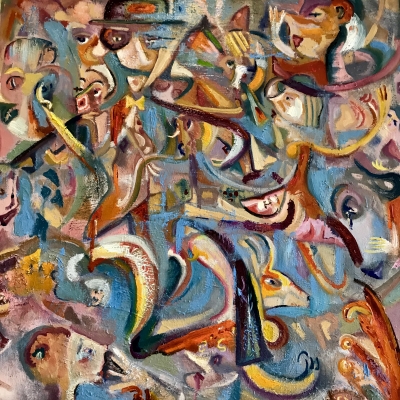 Bio:
Kate is a passionate artist, self-taught and as yet unrepresented. Born in London, she has lived there most of her life. She trained originally as a lawyer, then worked in film before moving into the property business. She started painting in 2010, and finds it both a meditative process and a means of self- expression and exploration.

Her paintings are flights of fancy and invention, moving seamlessly between factual illustration and non-figurative abstraction. The creative method she has developed helps her to conjure a unique, surreal world, evoking her emotional landscape. The paintings feature a repertoire of quirky figures, sometimes charming, humorous , sometimes unsettling and distorted, expressing joy, love, sadness and angst.

Sometimes she dreams her paintings before executing them onto the canvas, but more frequently the process is organic. She starts the painting with an emotion and then lets it develop, revealing itself in stages, often surprising and amusing. Working in oils and sometimes using the medium of collage, her style is distinctively her own, though others have noted such diverse influences as Chagall, Beryl Cook and Hireronymous Bosch.
---