Artists Exhibiting At Our London Art Fair
Here you can find information of each artist who will be showing at the next Roy's London Art Fair including exhibitions, achievements and sample works.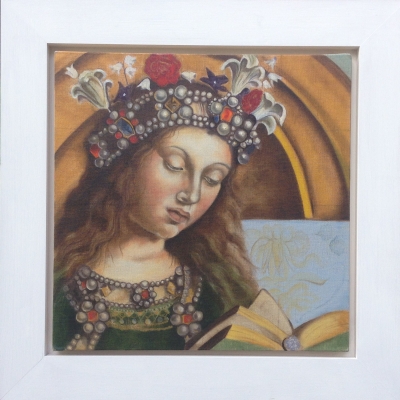 Bio:
She's terribly nice! But seriously, looking through her old portfolios in her studio dating back to school days, it is evident that Sabrina has a natural talent as a draughtsman (woman, human), painter, printer and all round creative.

Art has always been looked upon as a hobby rather than a true vocation, Art was never really sensible enough and therefore sidelined in favour of more serious work. But the Art bug was there, waiting and after practically taking up permanent residence at the inspiring Mary Ward Centre in Bloomsbury, she was accepted at Chelsea College of Art and Design where she graduated in 2005 with a BA Honours degree in Fine Art. Sabrina studied whilst she held down a demanding full time job and enjoyed every minute at Chelsea especially the challenges faced by a fine artist specialising in figurative painting. She was fortunate to have Sutapa Biswas as her personal tutor, an inspiring, generous and graceful artist whose work is highly acclaimed and respected.

In January 2013 Sabrina began running children's classes at the esteemed Hampstead School of Art where she teaches pottery and painting to 6 - 11 year olds followed by an afternoon Masterclass in drawing and painting to 5 - 6 year olds - aaaah, sweet (but loud....very loud!). Her classes have grown in popularity as she now teaches teenagers who wish to extend their knowledge in addition to what they learn at school as part of the national curriculum.

In 2014, Sabrina trained as an adviser for the Arts Award from Discovery to Bronze award.
---