Artists Exhibiting At Our Art Fair
Here you can find information of each artist who will be showing at the next Roy's Art Fair including exhibitions, achievements and sample works.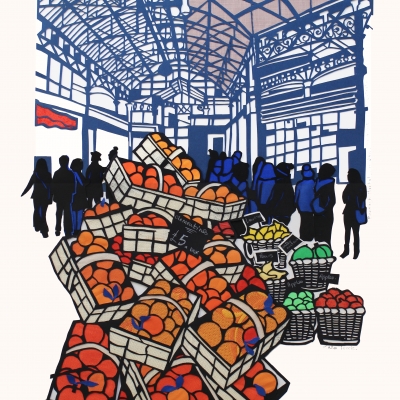 Bio:
I have practiced as a self-employed graphic designer for many years, specialising in historical maps, and infographics for international publishers. My work took a downturn early in 2017, giving me lots of free time and left me wondering how to fill my days and possibly plan a new career for myself.

I reconnected with my passion for fabrics, threads, and textiles in general. I started by creating appliqué and embroidery designs, but ideas just kept coming faster than I could make them. Hand-embroidery takes a lot of time!

I was looking for other ways to realise my ideas when I discovered card cutting in October 2017, by browsing social media. There is a lot of amazing artists out there, don't be put off. Tell yourself you are as good as them, just less experienced!
I could at last see a way to realise my visions, but it needed practice, as anything does.

This technique was a revelation and I was hooked. I love the clean, sharp lines and contrasts. However, I had not finished, this badly needed colour in my view. Because of my background with applique and embroidery, using fabrics was almost inevitable. I had stacks of fabulous colourful textiles right next to me! This technique of adding fabrics to the card, softened it all, and gave the image a personality – my personality.

The textiles I use are mainly cotton/linen, sometimes hand-dyed too if I can't buy the right shade.
I take inspiration from nature and architecture, but people and even animals are now part of the compositions.
---