Artists Exhibiting At Our Art Fair
Here you can find information of each artist who will be showing at the next Roy's Art Fair including exhibitions, achievements and sample works.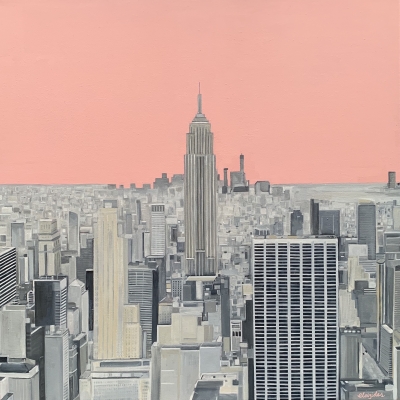 Bio:
I'm a North London based artist who paints bright Cityscapes and peaceful street scenes sprinkled with colour. Painting is exciting and enjoyable experience for me, especially in the early stages of a painting when I have all the ideas ready and the fresh new canvas ready to start. I try to create something every day, whether it is painting, sketching, photography, or gathering ideas for my next project. I love that the process enables me to switch my mind off from everything else.
​
I studied art at college and was inspired by the works of Robert Delaunay for his bold and lively use of colour, and Wassily Kandinsky, as I was intrigued with his theories on the effects art and colour have on human emotions. After college I went on to study Spanish at university and then I started working in banking in London. I admired the architecture and skyline of Canary Wharf and started painting in my spare time. My work around the time was focused on buildings saturated in bright colours; I remember whilst I was doing a course one teacher thought that my panting of Albert Bridge was like a fruit salad!
​
In 2006 I moved to Las Vegas on an 18-month internship. I used this opportunity to find subjects for my paintings, especially the bright lights and liveliness of downtown. I painted the places I visited in America and loved the culture. The subject of my work is usually taken from places I have been drawn towards; I have felt inspired and wanted to paint the atmosphere and my personal memories. I generally like to make a few sketches from life before I begin painting, I get good sense of the environment and pay particular attention to shadows and tone, enabling my brain to focus on small details. I take a lot of photographs, and then paint from the drawings and photographs I have put together.
​
I am very grateful to have had the opportunity to exhibit my work in several group exhibitions in the past, including the ING discerning eye, the National Open Art Exhibition (NOA) and the Society of Women Artists annual exhibition. I have also organised 5 solo exhibitions between 2013-2018, and sell my work at various local arts and craft fairs. I am always experimenting with new ideas and techniques, from using big blobs of colours to fine mists of luminous spray paint I like to test out new styles and materials. I enjoy learning about other artists and admire the work of Jasper Johns, Michael Andrews and Peter Blake, to mention but a few. Through practice & experimentation my work is evolving and I am developing as an artist.
---