Artists Exhibiting At Our Art Fair
Here you can find information of each artist who will be showing at the next Roy's Art Fair including exhibitions, achievements and sample works.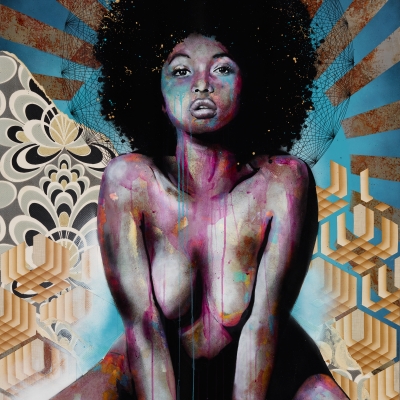 Bio:
Louisa is a London based mixed media artist, versatile, imaginative yet highly technical, she is currently working with oxidized steel alongside this her commissions and exhibits include digital collage, graphite as well as painting and portraiture.

Louisa combines traditional art education with an emphasis on figurative studies including the long-established skills of anatomical instruction with an experimental approach.

National and international exhibitions include: London, The Royal Scottish Academy, Edinburgh, Chicago, Boston MA, Tel Aviv, Budapest and Vienna. She has many works in private and corporate collections around the world. Louisa has been commissioned by many celebrity clients including musicians & Hollywood's A-list.

Louisa's debut collection received considerable attention with works accepted screening project at the Saatchi Gallery, London. Her work heavily relies on inspiration from urban art. A related term is "sgraffito", which involves scratching through one layer of pigment to reveal another beneath it. This is exactly the process used when working on oxidized steel – constantly grinding away the surface to the past scribes of paint and collage from the previous point, giving the work further depth each and every time.

Her latest collection and technique has developed over 12 months and has pushed the oxidation process to extreme new levels. Louisa has perfected "painting in with nature to allow the rusting process to create the image"
---