Artists Exhibiting At Our Art Fair
Here you can find information of each artist who will be showing at the next Roy's Art Fair including exhibitions, achievements and sample works.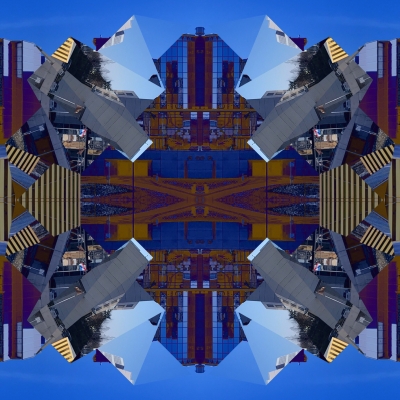 Bio:
I am a freelance artist who enjoys playing with colours and shapes, and I am an amateur photographer of architecture, urban design, street scenes and of any object, landscape, or scenery that catch my eyes, from unusual angles or an unexpected perspective. I take several photos every day that I subsequently edit, distort, connect, associate or dissociate to generate exclusive pictures, graphic designs and digital artworks or collages. The main driving forces of my creations are pattern repetition, colour contrasts combined with light exposure, and serendipity.

I have always been attracted by geometric shapes, symmetry and dissymmetry, or colour combinations and I have a geometric perception of the world around me. The bright colours and clear-cut forms of genuine pop art, all forms of abstract art from the Russian avant-garde to the 20th century American modern artists or the geometric patterns of Islamic art, as well as some forms of minimalism and the wonders of nature are my sources of inspiration.
---