Artists Exhibiting At Our Art Fair
Here you can find information of each artist who will be showing at the next Roy's Art Fair including exhibitions, achievements and sample works.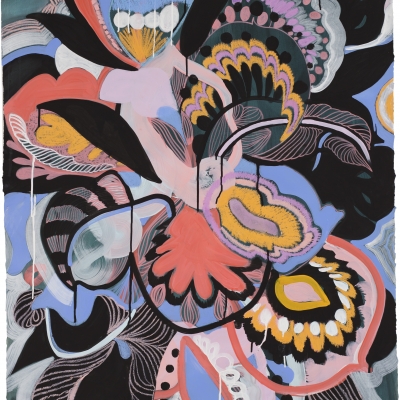 Bio:
From entangled concoctions, rise beings from another world. They swim in a joyful accumulation of form and colour. My pieces reconcile man-made plastic objects with their organic counterparts, a world where jellyfish has morphed with plastic jewellery. I intend to transport the viewer into quasi-psychedelic, meditative visions of colours, patterns, brush strokes and striking gradients.

My pieces are almost always a mixed-media approach to creating art, combining drawing -my very first love-, collage and painting. I trained academically as a drawer, and have always found drawing to be immediate, intimate, and a very versatile medium to work with. Often working on paper -sometimes mounted on canvas or wood-, translucent polyester and canvas, I like to use my background in fashion & jewellery design to present artworks that draw influences from many different, eclectic places. Playing with the boundaries between the abstract and the figurative, I like to suggest the form, keeping my pieces deliberately ambiguous so to preserve a sense of looking at something unknown and surprising, for the viewer but also for myself.

I like to work in a spontaneous way, listening to each piece as it gets created, learning what it requires, where it wants to take me. My favourite way of working is when there is an element of accident somewhere: for instance when I find an old piece of work that I discarded a while ago, that I suddenly find interesting, put against a scrap of paper with a mark or hole in it that I can use as a form of stencil. I love to create and I am always taken by the endless possibilities that making art can offer, how it can feel completely new, again and again.



Blandine is a French born artist, who works and lives in London, South Norwood. Blandine has an MA in Painting from the Glasgow School of Art, where she developed her love for painting, drawing and soft sculpture. Blandine's practice has always been interested in the relationship between two-dimensional surfaces and three-dimensional objects. She originally studied a BA Fashion Design Womenswear at Central Saint Martins in London, and after graduating she created a jewellery collection made of plastic tubes. Blandine organises regular art workshops around London.
---