Artists Exhibiting At Our Art Fair
Here you can find information of each artist who will be showing at the next Roy's Art Fair including exhibitions, achievements and sample works.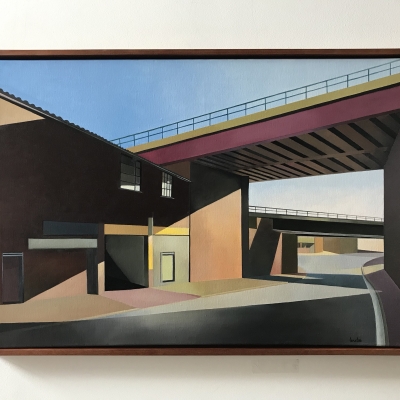 Bio:
I am originally from Paris. I came to London to study Graphic Design at Camberwell College of Art and never went back.

I paint with oils. When I recently came back to painting after an absence of almost 20 years, I started using the very same paint tubes and brushes I had kept in an old wooden box in a corner of my house since being a student. That's the materials I had learnt to paint with at 14 years old - and painted with through to my early twenties. It felt natural and comfortable to reconnect with the painting process through these old friends.

I love the smells and textures associated with oil paint. They make painting a sensorial experience and I can't quite imagine using anything else as a medium. It takes a lot of practice and time to develop skills and mastery in any discipline. I am happy to notice how much better accustomed I am with oil paint now than before I started practicing with it daily. But I am still learning.

As a teenager, I learnt by painting observational still lives and self-portraits. I love still lives, and continue to paint them now. I have painted a lot of portraits and self-portraits in the last three years. But the strand of my work I am particularly developing at the moment is streetscapes and buildings. I base these on places I encounter as I walk or cycle around London. Some of these are very familiar places and come back repeatedly, such as the bridges near my studio in Loughborough Junction. Others come to me suddenly, taking me by surprise.

I was a documentary video maker for around 12 years. This made me very aware of my surroundings and conscious of the way I looked at the city around me. I suppose I got used to 'framing' things all the time, even without a camera. Walking around I would suddenly see something and think: 'this would make a good shot'. Now, I see something and I think: 'there is a painting in this'.

So naturally, I use photographs as a starting point for my painting process. The photos capture a 'moment of seeing', when the painting idea comes into being. A moment when lines, light, colours and shapes all fall into a particular order that suddenly makes sense to me.

The painting itself develops during the drawing stage, when I make marks on the canvas with a biro. Reality is simplified, in a way, and perspectives become my own. I then spend a lot of time on the colour, the gradients and the light – working and reworking areas and shapes in relation to each other.
---