Artists Exhibiting At Our London Art Fair
Here you can find information of each artist who will be showing at the next Roy's Art Fair including exhibitions, achievements and sample works.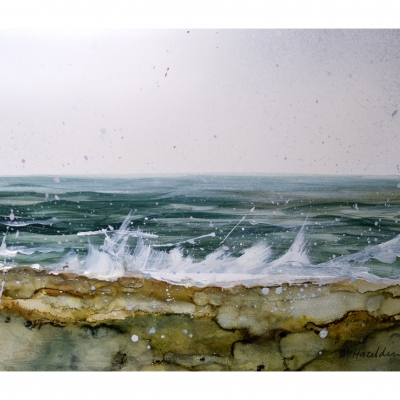 Bio:
As I work, a figure emerges from the natural and human elements in the maps: contours of the hills and the roads and streets. The network of roads rivers and streets create a vascular system of the body.

My work reflects my continued interest in human biology and anatomy.
The human figure, especially the female form, is central to my work.
Figurative rhythms of the environment have inspired me to use maps in my more recent work. The maps I work on capture memories of places of significance in my life.

Life experiences have had an affect on my approach to my work. Much of the colour in my work is influenced by the colours and forms of the Portsmouth coast where I live, and the Devon landscape where I grew up. I have always had a particular fascination in weathered organic and man-made objects I capture these elements by using mixed media: inks acrylics, collage and compressed charcoal.

I studied my degree at Winchester. This led to a 27 year career teaching in Portsmouth. During this time I continued to maintain my interest in art through commissioned mural work and leading art projects in schools and working with local artist.

In 2019 I made a decision to focus on my own art work. I became an artist in residence across two schools devoting one day a week to developing my own work.

---