Artists Exhibiting At Our Art Fair
Here you can find information of each artist who will be showing at the next Roy's Art Fair including exhibitions, achievements and sample works.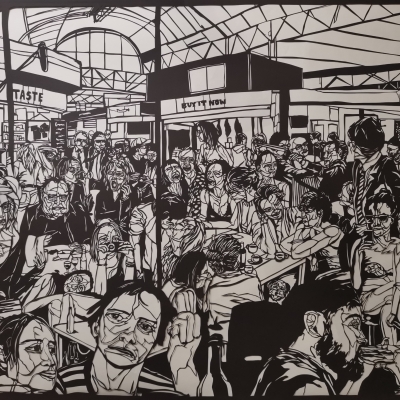 Bio:
Mark is a London based papercut artist and secondary school art teacher. Mark has exhibited around the UK and abroad. He recently hosted his second solo exhibition "After the Bear Mountain Picnic" at 5th Base gallery in East London. Originally from Leicester, Mark's practice was initially focused on relief printmaking. Papercutting began as a means to build a bridge between his sketches and his woodcuts. The nature of working spontaneously with a scalpel into paper gradually took over until it became the focus of the process.

Papercutting is like excavating an image, it's an exploration and there is something very ancient and weathered in the completed piece. For Mark, the act of making is as important as the outcome, by the nature of unearthing the image, and the improvisation which goes into it, it is impossible to anticipate what the image will look like until it is complete.

Mark's work explores the layers of complexity in the city, ranging from chaos built on chaos to the little pockets of calm. His work tries to capture the nature of interaction, navigation and passing moments within the confusion and depth of the urban environment. This world is all about flashing images and singular moments, recorded or remembered as papercuts they are uncovered and become artefacts.
---