Artists Exhibiting At Our Art Fair
Here you can find information of each artist who will be showing at the next Roy's Art Fair including exhibitions, achievements and sample works.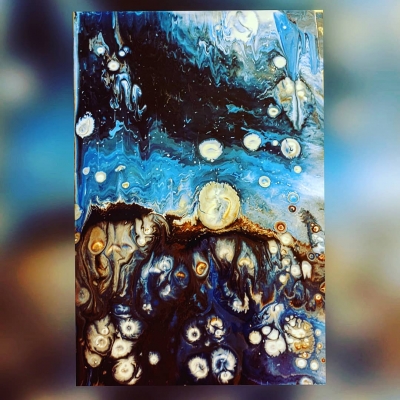 Bio:
Aneta Ten is a self taught Bulgarian artist, born in culture rich Burgas, Bulgaria. Surrounded by Burgas Lakes and located at the weseternmost point of the Black Sea. Early in childhood she and her

family moved to Sliven, Bulgaria, at the foot of the famous blue stone mountains and it's natural park. In 1998, fter graduating from The English Academy, she decided to travel the world, staying true to her adventurous nature. In the 2010, she moves to London, UK where she has lived and worked ever since; A mother, a teacher by day, Uni Student and an Artist by heart!
Living so close to water and earth have a very big impact on her work.
Her work is influenced by the Five elements concept, referring to the ancient Greece, the classical element concept of water, air, fire, earth and aether, explaining the complexity of all matter in terms of simpler substances.
While Aneta Ten's oeuvre is apparently abstract, each piece has it's origin in a moments of emotion and spiritual state and patterns of nature elements, making the art pieces look familiar but ambiguous.
Aneta's choice of art media is not incidental. Acrylic and Glass paints, Flowtrol, Silicone, Resin, construction materials like various binders and bonds, make her drowing appear fluid and dream like as if belonging to an actual "alternate reality".
Her experimental and adventurous spirit are perfectly aligned with this new art stream called Acrylic Fluid Painting or Flow Art.
Aneta loves using different techniques within the style, few of those presented within her art pieces; Double Cup, Dirty/ Straight Pours, Ring/Wing/ Straw Blown Pours and of course her controlled embellished pours or a mix techniques of Brush works and Mullet methods and lots more.
---