Artists Exhibiting At Our London Art Fair
Here you can find information of each artist who will be showing at the next Roy's Art Fair including exhibitions, achievements and sample works.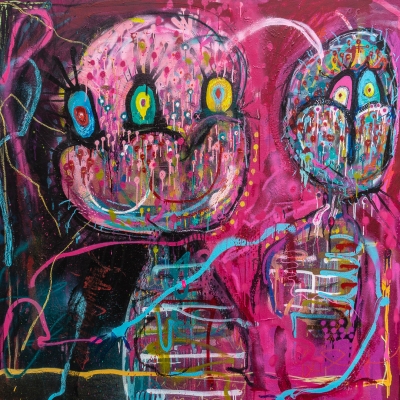 Bio:
Born in Dublin, Ireland, Daniel Crossan has been obsessively drawing and painting from an early age. Growing up in Tottenham, North London, he was immersed in cartoons, Nintendo video games, action figures and comic books.

He gained a BA in Illustration at The Birmingham Institute of Art and Design where he discovered a DIY ethos that still echoes through his work while embracing a raw and honest approach that has remained prevalent in the work up to this day.

Influenced by Outsider Art, Street Art, African Art, Neo Expressionism and Visionary Art, Crossan's work is an explosion of colour; a mix of expressive mark making and psychedelic characters that translate to a distinctly recognisable visual style.

Crossan continues in a rhythmic pattern until his pieces reveal their direction, working quickly and instinctively. As Crossan works, he finds himself lost in the process of creation, letting his intuitive bond with the art guide him. Through naïve exploration, Crossan brings forth a rhythm of repeated shapes, patterns, and symbology that binds the body of his work together. In his characters, he strives to communicate everything from the dismal appearance of the depressed London commuter to more profound personal experiences of expanded consciousness.

More recently, Crossan caused a stir with his audience when collaborating with filmmaker Pardeep Sahota, taking his regular Art Vlog series into a twisted dark comedy following the artist on YouTube as his life brutally spirals out of control.
---