Artists Exhibiting At Our Art Fair
Here you can find information of each artist who will be showing at the next Roy's Art Fair including exhibitions, achievements and sample works.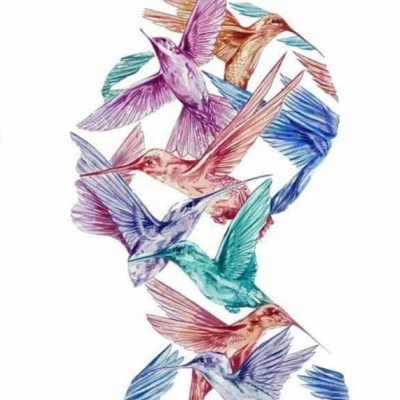 Bio:
Jacqueline de Montaigne (b1980) is a rapidly emerging Portuguese painter and muralist whose androgynous figures have burst onto the renowned and pioneering Portuguese street art scene in the last 2 years.
​
Jacqueline's signature work is defiant and non binary with delicate infusions of nature and ornithological elements. Whilst diluting paint to mimic classical watercolour techniques on extremely diverse surfaces, Jacqueline transforms traditional forms using a predominantly monochromatic pallet adorning her works with silver, bronze and gold leaf, be it a 300m2 street art mural, large canvas or a tiny scientific grade painting.

Jacqueline has exhibited her work in national and international galleries in both solo and collective shows since the age of 14 with her first sellout show a year later and an invitation for a short apprenticeship in Paula Rego's studio in London at the age of 19. Jacqueline's work has been shown in Eton, London, Lisbon, Tenerife, Madrid, Miami, Porto and an international touring exhibition based in South Africa.
​
Although self taught, Jacqueline had the privilege of growing up under the eye of her two artistic grandfathers, a scientific botanical painter and a BAFTA winning art producer. Much of her childhood was spent in their studios, observing, learning, experimenting and creating.
​
Jacqueline has an academic background in Psychotherapy and medical ethics, subjects she took 7 years out of the art world to pursue after the birth of her youngest son. Jacqueline returned to her art career full time in 2017, 6 months after being invited to paint her 1st mural for a renowned street art curator. The artists murals have since spread around Portugal with recent invitations extending to Spain, France, Brazil and the UK.
​
Born in Lisbon, Jacqueline was raised in Saudi Arabia, Scotland and East Asia, later returning to live in Portugal at the age of 21 where she currently maintains a full time studio practise.
---