Artists Exhibiting At Our Art Fair
Here you can find information of each artist who will be showing at the next Roy's Art Fair including exhibitions, achievements and sample works.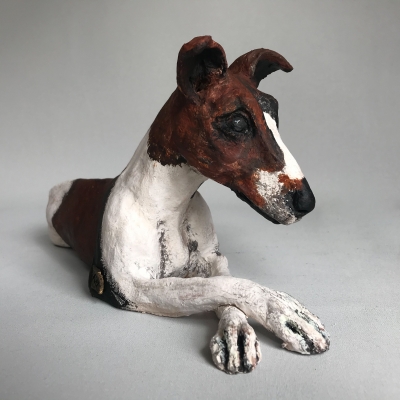 Bio:
Kay's journey with clay started at school where she was drawn to sculpture and ceramics more than any other art form. After gaining an Art A level, Kay's career choice saw her move to London where she began a successful career in the events industry. During this time Kay took numerous courses and studied with admired sculptors and ceramic artists, always striving to improve her artistic and creative skills and honing her process. Since 2013, Kay has made significant changes to her career and life-style to enable her to increase the time she spends in her studio with the ultimate goal of becoming a full-time ceramic artist and sculptor.
Kay discovered her love for animals at an early age. Growing up in semi-rural South Wales, Kay's first love came into her life at the age of four when her father accepted a pony as payment for a car he had sold. This 10.2 skewbald dynamo called Paint, ignited her lifelong love of horses with most childhood summers spent haring around the Welsh countryside. Add to that the numerous cats, dogs, ducks, chickens, turkeys, pigeons, ferrets, cows and goats, there was never any doubt that animals would always be a massive part of Kay's life.
---