Artists Exhibiting At Our Art Fair
Here you can find information of each artist who will be showing at the next Roy's Art Fair including exhibitions, achievements and sample works.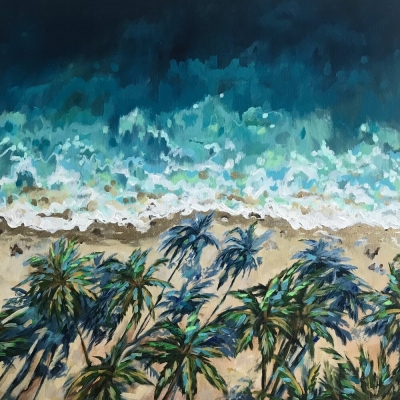 Bio:
Alma Tipon is a contemporary artist based in London. Rather than producing a literal interpretation, she aims to convey the atmospheric vibes and mood of a scene. Alma found a huge amount of inspiration from the coastal energy and the rustic environment of her tropical upbringing.

Alma loves watching the crowd by the sea, each one pre-occupied making memories of love and laughter. From an aerial perspective, these moments are captured into a colourful canvas. Her paintings undergo so much layering of mark-making and being immersed in a moment of inner connection with nature which involves not a lot of planning but comes from the natural flow of creativity. It's an intuitive process that keeps consciousness stopped for a moment of peace. It's energising.

In her latest summer series, Alma decided to focus more on tropical inspirations. Alma can practically hear the waves breaking and the scent of the sea filter into each colourful canvas.

Alma recently launched her CREATIVE AT HOME for children aged 7-12 an art program dedicated on creating mindfulness through art and inspiring children to focus more in a moment with calmness.
---