Artists Exhibiting At Our Art Fair
Here you can find information of each artist who will be showing at the next Roy's Art Fair including exhibitions, achievements and sample works.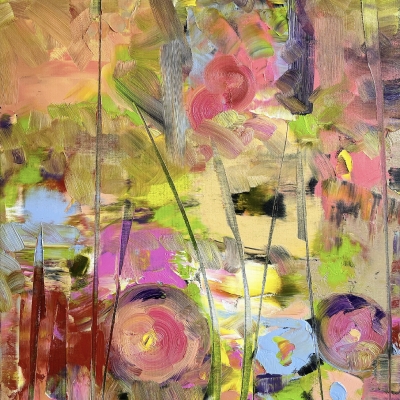 Bio:
Caroline Killoury is a British Irish painter currently living and working in England. Having spent her childhood moving around the world, Caroline arrived in London in her late teens intending to study painting. But side-tracked by a chance encounter she spent a couple of decades or so in the music business managing the careers of bands, singers, DJs and producers before finally picking up her studies in 2018 and graduating in 2020 with a Masters in Fine Art from the Reading School of Art.
​
Richly imagined and loosely abstracted, Caroline's vibrant and intuitive paintings are rooted in the natural world and exuberantly and unapologetically colour soaked, inspired by the environs of the Middle East and Southern Europe where she grew up.
​
Working mainly with oil paint, its materiality and slow drying properties allow Caroline to take an almost geological path as she variously applies, scrapes back, reapplies, stretches, sculpts and pushes the paint to create energetic, complexly textured and layered sumptuous works.
​​​​
Caroline's work is held in various private collections. To purchase works shown in the gallery or for commissions contact for more information and prices.
---