Artists Exhibiting At Our Art Fair
Here you can find information of each artist who will be showing at the next Roy's Art Fair including exhibitions, achievements and sample works.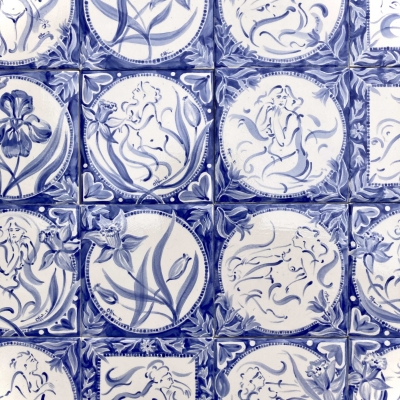 Bio:
Ottelien Huckin (born 1993, UK) graduated from Edinburgh College of Art in 2016 and attended The Sotheby's Institute of Art in 2019. Most recently, Ottelien was the Artist in Residence at Bankside Hotel, London in collaboration with Contemporary Collective (2020) and exhibited with the Sarah Wiseman Gallery, Oxford (2020) in their Autumn collection. As well as being represented by Degree Art, she was a painting finalist for their The Signature Art Prize 2019. Recent group residencies and exhibitions include 'In the Studio' at Mall Galleries, London (2019), The Signature Art Prize at Trinity Art Gallery, London (2019) and The Affordable Art Fair: New York and Battersea, London (2019). Her first solo exhibition at 44AD Artspace, Bath, Salomé opened in July 2018.

Powerful, sensual, painful, vulnerable, joyful - when I draw or paint the female figure I often contemplate what it means to inhabit my own body. Entrenched in a long art historical discourse dictated by 'the male gaze', my practice aims to reveal the nude in an autonomous, empowered and sensual way by reinterpreting old master drawings with my own life drawing observations and intuition. Either in the immediacy of an encounter or in the fragility of a memory, drawing is a personal and authentic form of expression in my practice. Drawing directly onto canvas with oil bar, my practice seeks to capture the qualities of a preparatory sketch. It is an exploratory process, allowing each mark to land as an expressive catalyst for the next. The staining nature of the medium mimics that of charcoal traditionally used in the academic style of figure drawing. Using bold colour pigments I aim to reject the ideas of classical draughtsmanship and question the hierarchy of painting by raising the status of the preparatory drawing to canvas.
---