Artists Exhibiting At Our Art Fair
Here you can find information of each artist who will be showing at the next Roy's Art Fair including exhibitions, achievements and sample works.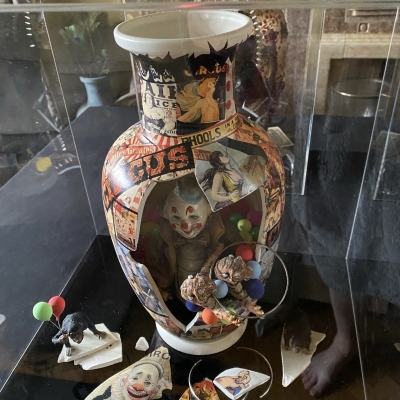 Bio:
I was born in 1958 into a working class neighbourhood, the son of painter and decorator from London's Eastend.

My mother, an equally strong character, was a Glaswegian known for her kindness yet eccentric personality. Both parents in their own unique way encouraged and fostered my creative instinct to paint and draw from a very early age.

Although always having a passion for contemporary art I had done little to persue my own aspirations until 1998 when I assisted a fellow artist in staging a major presentation of paintings at the 'Agora Gallery' on Broadway in NYC. Is was at this time that my interest in painting was rekindled and I began painting immediately on my return to the UK.

Due to exceptional interest in my work I was encouraged to present my first solo exhibition in 2001 which proved to be an unprecedented success setting a new sales record at that gallery for a new artist.

Since then I have presented both solo and group work at commercial galleries in Kent and London.

I like to think I have a clear and honest approach to art appreciation. I firmly believe that any 'good' painting should stimulate an emotional response rather than an intellectual one - great art doesn't need a 'back story'.

My work process always embraces the 'planned accidents' approach, I try different paints, styles, techniques etc and eventually, through trail and error , work out the final image. It's always a roller-coaster of emotion as the painting develops - elation and torment in each measures !

Using music as a source of inspiration has always been part of my creative process, especially the outstanding albums of David Bowie. Painting with a favourite album played loud and set on repeat is a prerequisite in the studio.
---