Artists Exhibiting At Our Art Fair
Here you can find information of each artist who will be showing at the next Roy's Art Fair including exhibitions, achievements and sample works.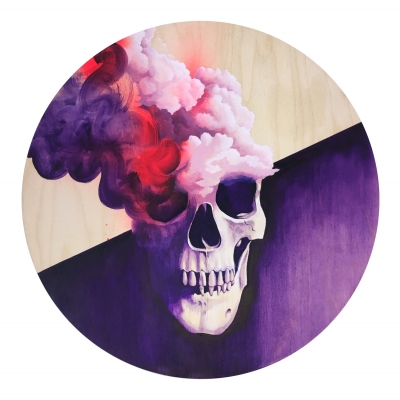 Bio:
My artistic practice occupies the hinterland between street art and fine art painting.

I have been an active part of UK street art for over 15 years, I have since painted internationally from the streets of Melbourne to Europe's biggest street art festival, Upfest,

From my studio in Brighton, I'm now embracing a more refined approach, combining spray paint and oils, to create an energetic style that captures the raw process of creativity. Inspired by the forces of nature, human emotion and a deep sense of wanderlust, my work explores the commonalities that make us human.
My last collection "Wild Skies" developed a visual language of dreamlike luminous cloudscapes as a metaphor for human emotion.
The collection I'm currently working on entitled "The Lost Embrace" is an attempt to recapture the moments of human contact that we all lost over the pandemic. I am re-introducing figurative elements back into my work, combining them with my signature dreamlike cloudscapes, to create sensual, visceral moments in time, that celebrate togetherness, friendship, desire, and loss. All the things that make us human.
---