Artists Exhibiting At Our Art Fair
Here you can find information of each artist who will be showing at the next Roy's Art Fair including exhibitions, achievements and sample works.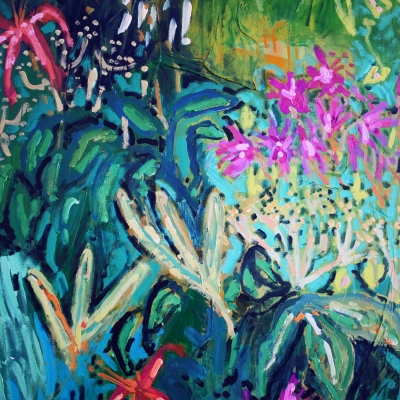 Bio:
My paintings all stem from a love of colour, texture, contrasting colours, colour explosions and 'pops'. I've always been inspired by natural form and patterns found in nature and creation. I can remember being a small child fascinated by nature and I've returned to that in many ways. Artistic inspirations include Arabella Shand, Kate Owen, Pierre Bonnard, David Hockney, Sarah Jane Moon, Orlanda Bloom, Henry Matisse and Bruce McClean. I take part in @studiofridays_london sessions at Insight School of Art in North London and am mentored by AWRS Paul Regan. My creative inspirations include my textile-mad mum Tessa and brother Joe @DefoMaybe @Snakeeyesdie, alongside my Aunty Carol who is a ceramicist @conwypotterycarol. Midwinter pottery, the vintage 1950's designs which can be seen in the V+A, was owned and created by my grandmothers family, and that legacy always inspired me. My faith guides me and I often think of my paintings as form of private prayer poetry and worship. I facilitate creative community at church and am passionate about the therapeutic benefits of creativity on wellbeing and mental health across all ages.
---