Artists Exhibiting At Our Art Fair
Here you can find information of each artist who will be showing at the next Roy's Art Fair including exhibitions, achievements and sample works.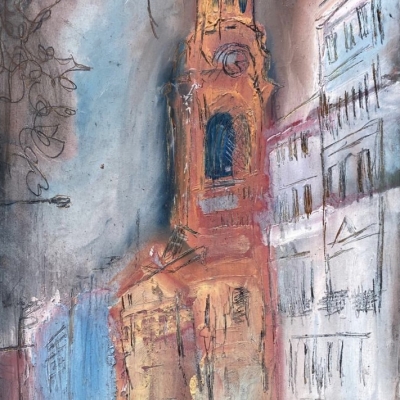 Bio:
Jones Keyworth was born in London in 1980, but spent her childhood in the Sussex countryside. She completed degrees in English Literature, Art, Creative Writing at Chichester University before going on to study Art History at Cambridge. Established as a freelance artist, writer and theatre designer she moved back to London in 2004, collaborating with galleries as well as theatres such as The Old Vic and National Theatre.

Often painted on panels of mahogany cut from old doors, the works are small and heavy pieces, painted with luminous jewel like tones. From Albert is a new series of views sketched from the very top of the Albert Hall's famous domed roof. The haze of heaped houses, glass office blocks, towers and cranes just about visible in the smoky 'London particular'.

Reminiscent of icons or illuminated manuscripts, Jones Keyworth's oils evoke strange and dark fables, exploring themes of memory and perception. Beautiful yet claustrophobic, the landscapes create a sense of unease with patterns of people and trees.
---