Artists Exhibiting At Our Art Fair
Here you can find information of each artist who will be showing at the next Roy's Art Fair including exhibitions, achievements and sample works.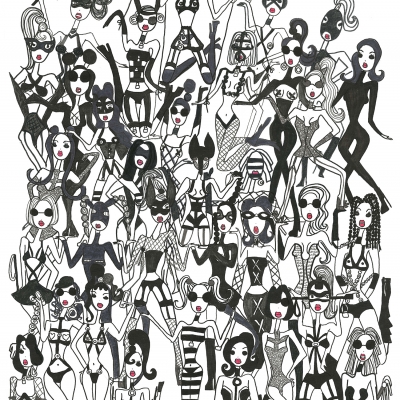 Bio:
Emma is a New Zealander currently based in the artistic hub of London. She has always held an intense fascination for all things bold. The purpose of her alluring illustrations are to to completely capture the self-expression of each subject she draws, something she has been captivated by since the age of five. An incredibly shy child, who preferred to avoid any kind of face to face conversation, Emma preferred to sit for hours at a time at her parent's coffee table with a good two metres of paper rolled out in front of her, where the real stories would take place. Emma would draw whatever she wanted, with whatever medium she chose to use - be it crayons, ballpoint pen, coloured pencils and on occasion, red lipstick. This could have been anything from an entire classroom portrait, or as a street scene adorned with people in all kinds of scenarios, buildings, animals and vehicles.

While these might not have necessarily been award winning artworks, being able to draw her depiction of some very diverse and controversial scenes was her absolute passion and to this day still is. Over the years she developed an strong interest in highly eccentric women's fashion and BDSM, where she began to apply these styles to both her illustrations and her own personal sense of dress. Some of her pieces she brands " tastefully provocative".

Emma has displayed her work in small exhibitions in both London and Sydney. Her more recent experience has ranged from doing live illustrations in boutique fashion stores to creating bespoke life sized wall murals as well as high end commissions for private clients.
---