Artists Exhibiting At Our Art Fair
Here you can find information of each artist who will be showing at the next Roy's Art Fair including exhibitions, achievements and sample works.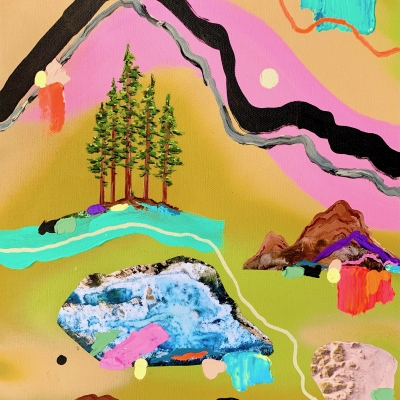 Bio:
Capturing a sense of awe and wonder through abstract landscapes of saturated colours and dream-like imagery.
Awe, is an emotion defined as an "overwhelming and bewildering sense of connection with a startling universe that is usually far beyond the narrow band of our consciousness." (Paul Pearsall, Awe: The Delights and Dangers of Our Eleventh Emotion)

As a young child we experience these moments frequently; a privilege we often outgrow. I aim to capture these experiences through abstract landscapes of saturated colours and dream-like imagery. This wonderful and often forgotten way of seeing the world has an impact on our emotional wellbeing.

My practice combines acrylic paint and collaged images of landscapes, dreams and memories. Which are manipulated to create visually appealing compositions with loose, abstract narratives. I enjoy blurring the lines between reality and dreams by mixing familiar imagery with vivid colours and unbounded forms.

I use colour as a tool to capture the energy we feel when first confronted with something beautiful; that feeling of seeing something for the first time. The surreal elements demand attention and transport you to other worldly places. I believe in creating experiences, ones in which you can get lost in.

You can find me working in my studio in East London or cruising the waterways in and around London on my narrowboat.
---