Artists Exhibiting At Our London Art Fair
Here you can find information of each artist who will be showing at the next Roy's Art Fair including exhibitions, achievements and sample works.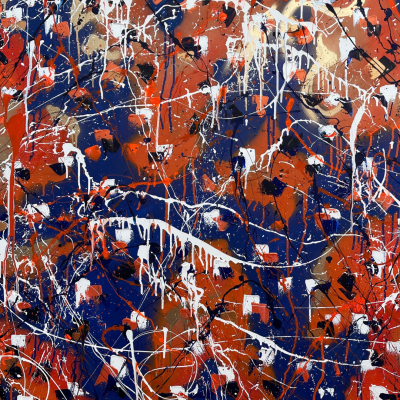 Bio:
Tom Oluade is not a trained artist; however, art has been a big factor throughout his life. Having studied art courses through school and completed an Architecture degree at University, his creative side was put on hold while pursuing his love for Property Development.

However, during the lockdown of 2020, he was able to reconnect with his creative side and spend time painting. So, armed with a set of acrylic paint and MDF boards his first piece of the collection was born conveniently called the "One of One Series".

After posting No.1 on Instagram and receiving promising feedback, he decided to turn his concept into an entire collection. The One of One series is made up of bold pieces, with various colour combinations and variant splatter intensities, with each customer knowing that the piece will never (and actually cannot) be recreated again, thus making it a one of one piece of artwork.

In May 2020, Tom released the 1st collection within the series, his inspiration came from different colour patterns he finds from fashion prints, jewellery to swiss lace and his own colourful imagination. As part of this series, Tom has been commissioned by various customers to create larger versions, with the concept for each piece drawing inspiration from the colour on the walls and furniture in the room.

Tom's belief is that abstract art can be affordable and available to the everyday person and will carry this ethos for all future collections.
---