Artists Exhibiting At Our London Art Fair
Here you can find information of each artist who will be showing at the next Roy's Art Fair including exhibitions, achievements and sample works.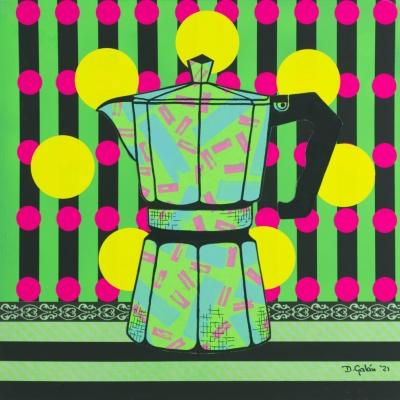 Bio:
Spanish artist based in London. Observer of beauty from inside, his creative process started as a 3D and graphic designer in his beloved Spain. Later on, when he moved to London, is when he started to experiment with painting on canvas and printmaking.
In the early stages of his career he was trying different techniques aiming to find his own voice and unique style. Was this try and error stubbornness what led him to find his own artistic voice, developing a mix technique between collage and conventional painting. Through his mix media painting artwork explores unconventional approaches to objects and colour palettes. His compositions bring to life vibrant art pieces with a 3D effect.
Textures and patterns play a main role on David's artwork. Clean compositions and geometrical shapes creates his particular world, in which day life objects are re-born in a new Pop Art from 21st Century.
There's no doubt that his paintings are full of light and colour, and always bring happiness and positive vibes.
Dare to explore this artist peculiar world and let him take you into a fantastic journey. You won't be disappointed.
---