Artists Exhibiting At Our London Art Fair
Here you can find information of each artist who will be showing at the next Roy's Art Fair including exhibitions, achievements and sample works.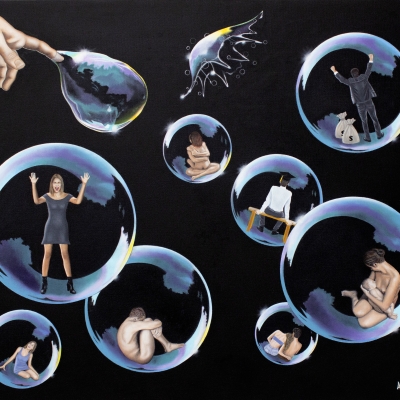 Bio:
Angelo Asaro is an emerging Italian artist who currently lives in London. He originally got a master's degree in Engineering, which led him to pursue a successful career as a Product Manager. Despite this, Angelo never lost his passion for art and continued to nurture his interest in it.

However, it was not until the 2020 lockdown that he was able to fully reconnect with his creative side, spending more time painting and allowing his emotions to flow freely onto the canvas. The emotional turmoil of the lockdown period caused a burst of creativity, which led Angelo to seriously pursue his art career.

Angelo's artworks are deeply personal, reflecting his own experiences, challenges, and emotional journey. Each piece is unique and represents a different aspect of his inner world, inspired by his emotional observations. The paintings use symbolic and surreal imagery to explore themes such as human emotions, the fragility of life, the duality of human nature, the inevitability of fate, the fleeting nature of time, the smallness of human existence, and the brevity of life. Some of his paintings also offer a reflection on the intersection between art and reality, and how art has the power to dissolve the boundaries between the inner and outer worlds.

The results are powerful and evocative images that invite the viewer to embark on a journey of self-discovery and to explore their own inner world.

---