Artists Exhibiting At Our London Art Fair
Here you can find information of each artist who will be showing at the next Roy's Art Fair including exhibitions, achievements and sample works.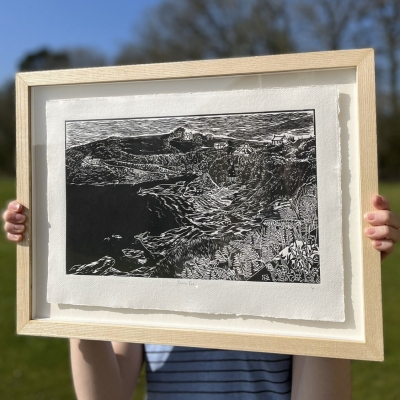 Bio:
I'm an artist and maker from the Cotswolds. I have always enjoyed experimenting with print, the print room was my favourite place at college during my art foundation. I went on to study set design for TV & Film at university which was exciting and I definitely picked up a lot of skills but after graduating, moving to London and trying my hand at freelancing, I quickly realised the industry wasn't for me. I then worked at a picture framers which I loved, it's so fulfilling bringing an art work to life by choosing something to compliment the work, building the frame from scratch and then knowing that it will hang with love in someone's home for many years to come.
After moving to Winchester to escape the city as me and my partner are both country born, and this city is the best of both.

I hand make original prints and cards, inspired by the outdoors. All my products are hand printed by me and so each one is unique. I am passionate about keeping my work completely handmade and with little impact on the environment and so everything down to each single card is an original. I also find this more personal and so each item has been crafted by my hands, which is important for me when I purchase artists work and so keep to this method in my work. I use relief and intaglio printmaking methods to create my designs, with a current love and focus on linocuts, sticking to bold black and white mark marking. I love how the negative space becomes the most important part of the print. All my cards are printed on handmade recycled paper and I use a mix of recycled paper and acid free printmaking paper for my prints, depending on the edition. All products are packaged with biodegradable and compostable materials. I also hand make frames for a selection of my prints, and so these are bespoke and hand crafted using oak or ash, which I have available for markets.
---